}
We proudly sell "All Season's" premium replacement spa covers...

Spa Cover Information
If you want to order a new spa cover, this page should answers most of your questions about the process of a new spa cover. We will be happy to come to your house and take all of the hassle out of ordering a new spa cover for you, at no additional charge.
Within a week or two of coming to your house, we will contact you again and deliver and install your new custom spa cover.
All of our spa covers feature the following:
A visit to your house to gain the accurate spa dimensions, color, and specifications for your new cover.
Premium marine grade vinyl treated for ultraviolet and mildew protection.
Wide color options available to match your yard decor
Locking child safety straps standard
2 Handles, one on each side
Gussets in skirting at each corner to prevent shrinkage
Extra durable virgin (EPS) foam cores for added strength
Cores available in 4" to 2" & 3" to 5" taper for maximum snow melt and rain run off
Steel "C" channels inserted into each foam core to prevent warping
Reinforced zippers, straps, handles and hinge
Spa liner that is bromine and chlorine resistant
Four year warranty on materials and workmanship!
Free Delivery within Sonoma County
There's more to what we offer...
We come to your spa* at no additional charge and measure the spa for a new cover.
We measure for the spa cover and show you color samples to choose from.
We allow you to pick the features available with a custom cover while we are there to explain them to you, eliminating order errors.
We deliver and install the new cover when it comes in at no additional charge.
We offer to take the old cover away and dispose of it properly for only $50.00!
Look at what our competition does, or doesn't do for you, with regards to spa cover orders...
The Competition...
First, they will ask you to provide the dimension yourself. (If you do it wrong they will say it's your fault and they wont take back the cover!)
Most companies will require a deposit, or at worst, make you prepay for the spa cover. (Now, when the above happens, they already have your money!) Good luck. It's worse than AT&T
Come get it! The cover you have ordered is finally in. They want you to pick it up within a time period. If not, there may be a stocking fee or delivery fee.
Usually, there is an old cover to deal with. Since you are the one doing all of the work, they never see the old cover, or never provid asn oppurtunity to dispose of it for you. You will end up having to take it to the dump yourself, or cut it up and place it in your garbage can.
And last, the fit. If the new spa cover does not fit the spa properly, there is nothing you can do. The dealer won't do anything either. You are stuck with a cover that you do not like and does not fit properly.
Not only that, but buyer beware! When building our website, we browsed other spa cover companies. Be cautious of the $400-600 covers on the internet. Some companies use the 1 lb foam, while still charging higher quality foam prices, and provide a 30 day or no warranty.
Solve all of the hassles with a spa cover order by ordering your cover from Bob's Pool & Spa...
We will measure your spa for you, sell you a top quality spa cover at a fair price, and then deliver it, at no additional charge!
Our spa covers are available in 15 colors:
| | | | | |
| --- | --- | --- | --- | --- |
| Almond | Ash | Black | Brown | Forest Green |
| Light Blue | Light Gray | Pacific Blue | Marroon | Russett |
| Rust | Palomino | Teal | Walnut | Charcoal |
Actual colors may vary slightly, depending on the type, size and display settings of your pc monitor. We have vinyl swatches provided when we visit your spa.
Spa Cover Options...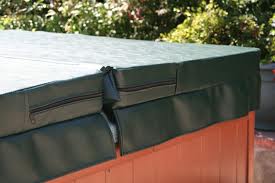 We sell three grades of portable spa covers to fit your needs...
Economy Covers
Deluxe Covers
And Premium Covers
All prices quoted are 8'x8' or smaller (96"x96"). For covers larger than 96", additional charges may apply. If your spa is not located in Sonoma or Marin County, additional shipping, handling, and freight charges may apply. If your spa is within our repair areas, the delivery is free!
The "Economy" Spa Cover
The "Economy" spa cover is made of 1 pound polystyrene foam inserts with 4" to 2" tapered for water runoff. The "Economy" spa cover comes with a 1 year warranty.
Lowest price
Standard quality
1 lb. light weight foam
Cover dimensions and specs measured by us
local (707) delivery included
Comes with a 1 year warranty
Low density 1 lb. foam cores
Good for people just looking for the most affordable spa cover, without a decent warranty.
Delivery is included at no additional charge.
The "Deluxe" Spa Cover
The "Deluxe" spa cover is made of 2 pound, high-density polystyrene foam inserts with 4" to 2" tapered for excellent water runoff. The "Deluxe" spa cover comes with a 4 year warranty. This is the most common quality spa cover sold...
Good value
Good quality
2 lb. Standard weight foam
Cover dimensions and specs measured by us
local (707) delivery included
Comes with a 4 year warranty
Standard density 2 lb. foam cores
Delivery is included at no additional charge
The "Premium" spa cover
Our "Premuim Grade" spa covers include all of the features of the "Deluxe" spa covers, with the added structural stability and denser 3lb foam cores.
Higher initial cost
Premium quality
3 lb high density foam - not very lightweight
Made for snow areas or additional safety and longer life
3lb density foam cores - the strongest!
Double-stitched vinyl shell
Designed for snow areas, or where children or pets are concerned
The covers are currenty selling for $600.00 on the internet by unscrupulous sites!
The walk on "Premium" spa cover is made of 3 pound, high-density polystyrene foam inserts for the strongest made spa covers available. This model is especially designed for snow loads, children or pets. The tapered design features a double-stitched vinyl shell and includes skirting, handles and fasteners. We don't reccomend walking on them, but you can if you choose. Excessive weight damage is not covered by the warranty.
If you have any questions about your spa cover order, please contact us.
Disclaimer and Warrany
Discalimer...
Delivery is included for Sonoma & Marin County only. Deliveries outside of our "service area" will incur additional shipping charges. Disposal of old spa covers is not included in our cover price. If you would like your old spa cover removed, there is an additional fee.
Our Warranty
Bob's Pool & Spa warrants the "Deluxe" and "Premium" spa covers to be free from defects in material and workmanship under normal use for a period of 48 months from the day of delivery to the customer.
The foam core inserts are also warranted against water-logging for 48 months. This limited warranty will not cover damages caused by improper installation, abuse or abrasion, excessive chemical use, vandalism, fire, animals, acts of God or nature, or use for purposes other than that for which the cover was designed. Ordinary wear and tear and seam splitting due to improper handling will not be considered to be defects in workmanship or materials. Bob's Pool & Spa will not be liable for any incidental or consequential damages or for injuries resulting from misuse. To return the spa cover for service under this warranty, the customer must return the spa cover to the manufacturer in a clean and dry condition. Proof of purchase will be required. Bob's Pool & Spa will repair or replace the spa cover, free of charge, within a 90-day period. If the company elects to replace the spa cover, a prorated amount will be charged to the customer. This amount will be calculated upon the amount of time remaining on the original warranty. Please remember that this is not a safety cover. The manufacturer is not responsible for injuries, death or damages resulting from misuse. The manufacturer does not warranty the foam core of the cover against breakage.
Home